Who was Horace Mann?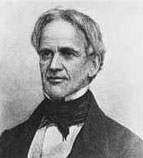 ---
By Horace Mann Student
Kate S.
Horace Mann was born in 1796 when the United States had recently become a country. Each community needed to decide the amount of schooling that took place in the area. The teachers at that time lacked a good education. The Massachusetts responded to the public's demands for better school. As a result, they put together a state board of education. From that point in 1837, Horace Mann remained secretary for eleven years. In 1848, he retired from the position once he had led his campaign for better education. Later, he served as president of Antioch College in Ohio. With a speech he made in 1848 to the Massachusetts Board of Education, he was able to make public education as it is today in America- worldly and refined. Horace Mann died in 1859.
For a more complete biography visit Horace Mann's alma mater (Class of 1819) Brown University!