What makes Horace Mann School Unique?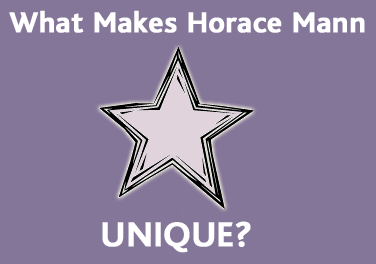 ---
By Horace Mann Student
Noga F.
Horace Mann- that's our school and we're proud of it.
Horace Mann is a school that is made up of four buildings: the elementary school, middle school, the library and science building which connects the two, and the Annex building. There are nine grades in Horace Mann. The grades are from kindergarten to eighth grade.
Horace Mann teaches a variety of things. There are the basics (English, Math, Social Studies, and Science) and there are other subjects such as a speech class, a reading class, physical education GATE (which stands for Gifted and Talented Education), French, Spanish, ESL (for students who come from different countries and are not yet fluent in English), and a variety of electives for the middle school students to choose from. They include Instrumental Music, Debate, Art, Science Lab, Music, Computers, Technology and video production.
All of the students at Horace Mann are proud to go to Horace Mann. They like Horace Mann better than any of the other K-8 schools in the Beverly Hills Unified School District. Every year, there are competitions between the four middle schools in the district. These competitions are for the schools to raise money and include a 5km walk, 1 mile run, a track meet, and other various events. The schools win events such as the 5 kilometer walk according to the number of people that show up to sponsor a particular school. Last year, at the track meet, Horace Mann won by a long shot for the most number and fastest people. There really is a lot of school spirit at Horace Mann.
The students who attend Horace Mann also participate in many extracurricular activities. We have a football team and a basketball team and a lot more to come. The students here love the teachers and like to prove that we really are the best.