Affinity Programs
Please use these easy ways to raise money for our kids at Horace Mann. These sites are free and only take a few moments of your time to register our school.

Use your Target Card or Target Visa and Horace Mann will receive a percentage of the amount of each purchase in the form of a cash donation through Target's Take Charge of Education program. To sign up please visit
target.com/tcoe
.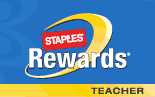 STAPLES Rewards Program allows customers to earn ten percent back on their purchases quarterly. That money goes directly to Horace Mann to purchase teaching supplies. The program is very easy to use. Anytime you purchase anything from STAPLES, either on-line or in-store, you just need to give the Horace Mann account number 2587211984. Then quarterly, Horace Mann will receive a check to be used at Staples for ten percent of your spending during the previous quarter.